Fall Protection In the Construction Industry
In response to the increasing incidence of construction-related injuries and fatalities, the New York City Council enacted Local Law 196 in October of 2017. This was a revision to the previous Administrative Code to include requiring minimum levels of site safety training for construction workers and recorded logs of such training.
Lawmakers and citizens alike have been pushing for safer working conditions especially that of the construction industry where the injury and death tolls seem to have not gone down. In fact, NYC Buildings reports a total of 746 accidents occurred in 2018, a 14.76% increase from the previous year. Fall accidents, the leading cause, have claimed the lives of two construction workers this year. [1]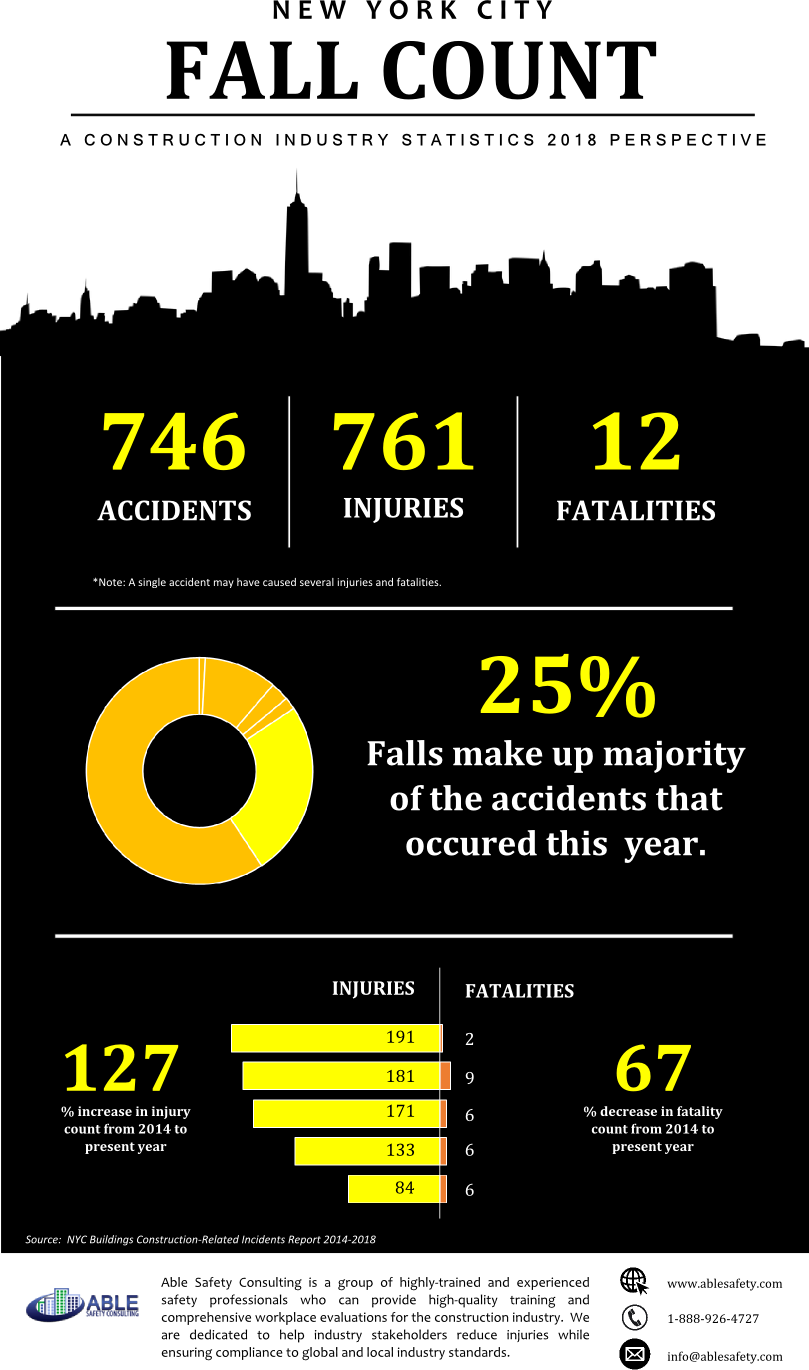 LOCAL LAW 196
Many have previously voiced out that penalties for negligent contractors and site owners have been way too lenient and thus, the new law is expected to pave way for improvements in the coming years.
Currently, as the law now rolls into its second phase, workers will be required to finish at least 30 hours safety training to become eligible for a Limited Site Safety Training Card. Meanwhile, supervisors are required to obtain a SST Supervisor Card which involves receiving a total of 62 hours of training which is talked more about in our Local law 196 article.
FALLS AS ONE OF THE "FATAL FOUR"
The 8-hour Fall Prevention Training is part of the required additional training in compliance with the new Local Law 196.
The Occupational Safety and Health Administration (OSHA) has long identified falls as the leading cause of fatalities in the construction industry and branded as one of the "Fatal Four" hazards along with Electrocutions, Caught-in/between and Struck by Objects.
Falls can be brought about by different factors caused by either the worker or the equipment used. OSHA has charted its standards in Subpart M which lays out the requirements and criteria for fall protection in construction workplaces.
OSHA launched its campaign "Plan, Provide and Train", to highlight the need for planning ahead to get the job done safely, providing the right equipment and training everyone to use the equipment safely. With this, they launched the video, "Five Ways to Prevent Workplace Falls," to remind all workers to always use fall protection when working at 6 feet or more; make a fall prevention plan before starting a job; provide workers with the right equipment; train everyone to use the equipment safely; and to always inspect harness, lanyard, and anchorage point before each use.
NYC Buildings, on the other hand, designed its own multi-lingual drive "Experience is Not Enough," to emphasize to all construction workers to use proper fall protection regardless of how long they have worked in the construction industry and how much experience they have.
Despite these aggressive campaigns of both the federal and local governments, lack of fall protection still tops the list of citations issued following inspection of worksites. DOB reported in its latest enforcement bulletin that there were 35 violations issued and $410,000 in penalties charged for failure to safeguard construction sites on 33 separate occasions.[2]
FALL PROTECTION TRAINING
Many work site accidents are avoidable if only safety precautions were taken. As it is the responsibility of the site owner to provide a safe working environment to protect its workers from falls, it is also the workers' duty to use the necessary safety equipment and be aware of his or her surroundings onsite.
As part of the new directive, NYC DOB now requires all construction site workers and supervisors to complete an 8-hour fall prevention training which provides training for workers on how to recognize, avoid, minimize, and correct fall hazards on jobsites. The course will cover fall hazards, competent person responsibilities, types of fall protection systems, calculation of fall distances, and decide on proper anchorage points among other things.
ABOUT US
Able Safety Consulting is a group of highly trained and experienced safety professionals who can provide high quality training and comprehensive workplace evaluations for the construction industry. We are dedicated to help industry stakeholders reduce injuries and fatalities while ensuring compliance to global and local industry standards.
For more information on the training courses we provide, please feel free to contact us at our toll-free number 888-926-4727 or visit our website at www.ablesafety.com
[1] NYC Buildings, "Construction Related Injuries and Fatalities" Report, December 2018
[2]NYC DOB Monthly Enforcement Bulletin, November 2018